Blog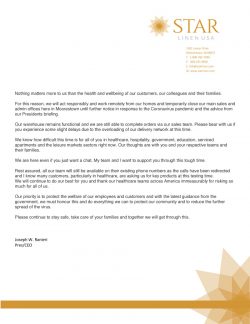 COVID-19 Customer Statement
Nothing matters more to us than the health and wellbeing of our customers, our colleagues and their families.
For this reason, we will act responsibly and work remotely from our homes and temporarily close our main sales and admin offices here in Moorestown until further notice in response to the Coronavirus pandemic and the advice from our Presidents briefing.
Our warehouse remains functional and we are still able to complete orders via our sales team. Please bear with us if you experience some slight delays due to the overloading of our delivery network at this time.
We know how difficult this time is for all of you in healthcare, hospitality, government, education, serviced apartments and the leisure markets sectors right now. Our thoughts are with you and your respective teams and their families.
We are here even if you just want a chat. My team and I want to support you through this tough time.
Rest assured, all our team will still be available on their existing phone numbers as the calls have been redirected and I know many customers, particularly in healthcare, are asking us for key products at this testing time.
We will continue to do our best for you and thank our healthcare teams across America immeasurably for risking so much for all of us.
Our priority is to protect the welfare of our employees and customers and with the latest guidance from the government, we must honour this and do everything we can to protect our community and to reduce the further spread of the virus.
Please continue to stay safe, take care of your families and together we will get through this.
Joseph W. Ranieri
Pres/CEO