Blog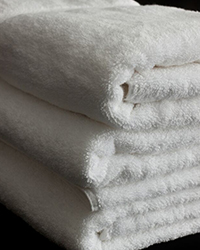 Star Linen & Supply Announces Exclusive Distribution Agreement For Innovative Eco-Friendly Product
Star Linen & Supply has announced the development and release of a new innovative eco-friendly textile product. It is truly sustainable by virtue of its patented manufacturing process and the ability to eliminate carbon footprints while supporting a healthier environment.
Through a proprietary process and an exclusive distribution agreement, Star's Marquis Green line of terry products are manufactured in a state-of-the-art zero discharge facility that produces no emission of effluents into rivers and streams. These products are also manufactured from pre-consumer regenerated cotton thereby eliminating the need for land, water and pesticides.
The eco-friendly recycling certification is defined by the use of the pre-consumer cotton waste and cutting scraps (obtained from a closed-factory environment); GOTS certified dyes and detergents that are reusable, organic or biodegradable; and the exclusive use of 98% recycled water. All factories are WRAP certified. Additionally, Star is currently developing a resource recovery program (RRP) that insures product regeneration upon completion of product life expectancy.
Marquis Green terry products are without question the most eco-friendly available in the industry today," said Joe Haughey, vice president of sales of Star Linen & Supply. "As an added benefit these products are offered at extremely competitive price points on par with current traditional institutional terry products."
For additional information, please contact Joe Haughey at 800-782-7999 ext. 230 or jhaughey@lininenterprises.com